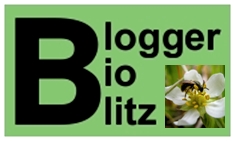 Hum, it's been a long time ago… Well, I promised anyway, so here we go. This post is still about bioblitzing. I keep up with blitzes, because this is what walks naturally look like in the family. And this time, I walked the shore until I reached this small island. Not a remote wild place, but definitely not the place people would really go a blitz! So once we're done I can add a bold line in my résumé that I produced a listing of species of an entire island. There might be another post in the coming weeks when I'll tell you about a sister species that I blitzed the very following day. It's amazing because they each correspond to a different stage of the "heath to forest" community succession. But it's slightly more remote and I almost had been stuck for a whole sea cycle. But let's go back to Tanguy Island. I finished the easy part: the final stages with Bracken ferns and even the Pines understorey (they would probably be Oaks inside the land, but sea shores go Conifers).
The West meadow.
West to the island, there eventually is a place where the ferns capitulated, or never took of grasses and herbs. Neither did brambles invade the setting. So suddenly, we get a whole bunch of plant species (and at that time, about to flower in mass), thus we also get a whole bunch of pollinators -that is, insects that flies, not the creepy ones.
As the path slowly disappear in vanishing grasses stems (sorry, I've never been able to deal with grass systematics, I systematically and deliberately avoid even have a single try) (but then, I could add these are past infructescences, which is far above stems…). I spotted a few butterflies I really like. Probably because they fascinated a macro-photographer that impressed me before I'd do hunt for insects myself (I shoot them now, but only with a camera).
This is Zygaena trifolii. As its name implies, the larvae feed on clover species. (For those who care, the species can be differentiated as adults from the closely related and more common Z. filipendula because of the 3 lower red wing spots, instead of 4).
The island is ridiculously close to the coast, that most pollinators come from the neighbouring mainland. I don't know if it was just that day, but they were not as numerous as would be expected in a meadow filled with flowers like this though. A few bumblebees and honey bees were busy there, but that's all. Here is a bumblebee visiting flowers from Genista sp (the pix does not allow for identification below the Genus).
Of course, this is not all about a pollinator thing. You'd expect other species, parasites for exemple. Indeed, there are, as you can see with this Rose whose bright redish stems produced two beautiful red gall balls.
This Rosa species is interesting, for most wild roses I've found so far belong to Rosa canina (I know, there are many more taxa, but I usually walk in forests or fields), which are slender on their stems, usually have leaves with fewer leaflets than this one, and seem to hesitate between growing as a small bush or climbing as a liana. In contrast, this rose was more heavily leaved (oh, is this another Frenglish neologism?), and had pale yellow flowers, not pinky ones.
Also, maybe these were just young plants, or maybe the other constraint of growing on litterally littoral grounds, but the individuals I've seen so far had only a branch or two. Not much of a bush.
Anyway, this rose is probably Rosa pimpinellifolia, and it's also a typically littoral species, though apparently specialised in dunes. It's very sad that none of the individuals crossed that day had set any fruit, because it would have been 'black hips', and they are apparently a bit special in this species to deserve a special mention and a special name.
If we go back to the arthropodic crew, we'd have to add predators so as to complete the bestiary. Let's have this robber fly and this scorpion fly species… (I have no mean to identify the species name, so let's keep them simple). Our robber fly is awaiting in the sun among grasses, and we even guess -along with some more Genista flowers- the rosette of a young Asteraceae (very probably Hieracium muricata).
Our scorpion fly rested on the top of the inflorescence of the very common Armeria maritima, with stunning blue stamens and pink petals.  This plant is typical of cliffs and shores, so this is well in its ecological niche. It was abundant both in the meadow and at the late vegetal zone before the shore.
After Armeria maritima (above), the second most abundant flowering plant is Anthyllis vulneraria var. sericea (below), at the end of flowering peak. It was also heavily visited by bumblebees.
Very centrally to the meadow, the soil turned sandy and the grass left the place to a very small thyme species. It was no more than 2 cm tall (well, less than an inch), yet attracted most of bees around. I wouldn't have guessed, since I'm used to the taller alba variety of this taxa, but it seems to be Thymus serpyllum. It's just a wild specimen. Quite aromatic, for I smelled the scent meters ahead.
Next to the thyme patch, there appears a fairly transient stage that would qualify as "Heath stage", with colourful Dorset Heath flowers, and Ulex bushes (or sort of bushes), intertwinned with Common Honneysuckle playing the liana game. But it's no more than a few feet long, and it disappears back into Bracken ferns…
This is maybe a sign that Heath may potentially grow and come back someday, maybe after a fire? This is in amazing contrast with the species found fourty meter ahead to the South, which aretypical of a wetter soil, and which are rather opportunistic weeds, in order of apparition:
So now we're done about these meadow species, but there will be a third part, because as an island, there's this lighty slight vegetal zone encircling the upper limit (or the lower, depending on where you cross the line) of the plant 'for reign' area… And since it is populated with very special taxa, we'll keep it for another blitz round. Soon. Promised.