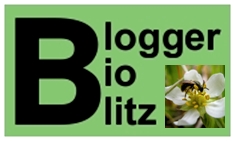 So this is my take on BBB 2010. I happened to be on the "Côte de Granite Rose", a famous place (and certainly touristic during summertime) in French Brittany (note there are more pictures in the French version of the wiki page). One of the three places in the world where granite rocks are pink (and thus the name of the coast)(thanks Wikipedia!). I did not really know if or when this year's spring version of Blogger Bio Blitz would happen, but I suddenly decide to go on a Blitz, during a walk.
Of course, circumstances were helping… I was walking on the shore, the sun was shining (only French brittons would tell you this was not that unexpected in June), okay and I missed Spring start this year and… I was about to reach Tanguy Island (just look at the satellite map).  By feet.
This might be a stereotypical biologist fantasy to go play a systematicist census game on a remote exotic island (maybe Tanguy Island is only something like 200 meters away from the Coast, but google doesn't even know its name, nor does it make it appear on the map but the satellite picture) and come back with the first comprehensive species list of that island (if not species new to science!)…
The beach breaches into three clear zones: a upper white zone with typical grains of sand, a pink zone with small granite stonelets, and finally grey silt (or browner sand where you're lucky).
But here comes the blitz…
Setting
Of the two islands for blitzing this time, Tanguy island is more typical of a quite advanced heathland. Indeed, it's ecologically closer to a young forest stage than classical heath with Ulex bushes. So naturally, there's a wide zone corresponding to what is called a fern hemline (hum, that would be the translation, do we call this vegetation stage so in English?). With Bracken Ferns. A lot. A lot more. An even lot more.
This part of blitzing was thus so easy! (Yep, I know, every time I happen blitzing in France do I come up with this species, but what do you want? It's typical of the area anyway). No other species is able to struggle against the fern. Once it is set at one place and become abundant, other plants are done. Unless they are tree species. And indeed, the place seems favourable to soil forming and humus can acumulate to support more than bushes. So you have a small groovy grove growing.
Pines. I did not cross the fern belt, but I guess these are Pinus nigra (it's been abundantly planted in the area and is now subspontaneous). Interestingly here, because of permanent winds from the sea, these trees have curious shapes. A perfect example of anemomorphosis (no, not anamorphosis, well… not really anamorphosis, anemomorphosis or does English not have this kind of word?). Just on the other side of the forest, trees are normally erect.
You can even see brown patches in the ferns. These are dried Ulex europaeus tufts. So we're really passed the stage where bracken ferns take over the gorse bushes stage in the heathland natural history. But since trees are long to take over, this results in a quite large Bracken ferns lead area.
The traditional view of heathland vegetation evolution is that unless fire or traditional human actions perturbate the place and pushes it backward during rejuvenation, forest is to be expected as a long term and stable state, at least where a soil deep enough can evolve and be sustained, and of course this won't be a heathland anymoor (sic). Apparently, I should not forget that few ecological states are completely stable, and cycling can interfere with long term trends. It's been for long documented that forest can also regress back into heathland under specific soil alteration…* (usually after podzolization). Given this is a forest pines, there should be heath some what back in the future on this island…
Finally, the path lead to a meadow area, where most of the assessed biological diversity is located (along with a very thin belt encircling the island, but it comprises most of the species we will find in the meadow) (and yep, I have no idea of unseen and unforeseen diversity in the Bracken litter, so maybe my claim about biodiversity is too strong).
There we are. But it's for the next few days… :-)
* Ph. Duchaufour (1949). Ecological researches on the French Atlantic oak forest. Plant Ecology 1(4): 340-342.