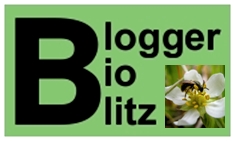 So here is the plant post for the Blogger BioBlitz 2008. The flora described here is rather common within the region outside these woods, but species composition is varying from one year to the next in this particular area, since it is slowly recovering from a big storm about a decade earlier. Plants species composition seems nevertheless to be changing as a result of this disturbation, and it may be interesting to see what's going to be there in the next decade… But let's first see the new face of plants community living here.
First, there are the plants that were growing here before the storm, and that recovered from the change. The rather common Bracken Ferns (Pteridium aquilinum) belong to these. The described allelopathic effect of these plants (follow the previous link to wikipedia), doesn't seem to be strong, but this may be because it is growing in a few scarce patches.
Anyway, it wasn't really a dominant species before the storm, and it may need a greater and shaddier tree cover to extend into a full grown thicket.
Most of the free space was quickly colonized by grass, and many species at ease with meadows, especially moist meadows, are making their way in the area.
This is the case for the Broadleaf Dock (Rumex obtusifolius), and large and healthy plants are easily spotted along the path. This newcomer plant seems to do well here, even if it is also welcomed by at least one 'holy' herbivore…
Another frequent plant that got established after the storm is the Common Foxglove, Digitalis purpurea.
A fairly decent population is growing by now, though of course it is more showy earlier during summer, when inflorescences are standing above the bushes.
Anyway, these plants are now resting and preparing to next's year flowering time (they are biennal and flower during their second year of life). 
 Smaller species are also met around, like this little Brassicaceae I didn't identify, though I suspect it is a member of Genus Cardamine.
If true, then I'm saved by the controversy over taxa status within the group, as it is still rather controversial and a matter of debate…
Who would suppose botany to be controversial these days? But it is, especially in groups with a high number of species where affinities are being redefined.
You wouldn't escape broadly invasives or very successful species like the Knotweed. The situation is the same and I won't try to ascribe a correct species name yet further.
I don't know whether this particular plant is indeed a Polygonum, like in the ancient times or belongs to the new Persicaria Genus (as I would be enclined to think). If you have an idea, I let you make a suggestion…
Note that if the nomenclatural change holds on, than this plants is turned from a Knotweed into a Smartweed. It might prefer this new denomination better… :-)
Another plant that was flowering is this Scrophularia (which may be S. nodosa).
Since wikipedia is helping me with the English names (I admit the encyclopedia makes things very easy to handle, given I know no vernacular English name for most plants), you will be happy that this one is called Figwort. Hum, it doesn't look like a fig but nevermind, at least you've got a name for the members of this Genus…
A closer look to the tiny flower reveals that it seems to open at various degrees, probably reflecting its age. I find that the upper petals, bending downwards, are very amazing. This feature is diversely organised within species of the Genus, even if the structure is quite similar. I'll keep en eye on this group…
This is yet another marker of the soil moisture.
Moreover, this plant was neighbouring another species with great water needs: Bidens tripartita (the Three-lobe Beggarticks). No flower anymore, but I really like its 'spiny' seeds (technically typical akenes) hitchhiking on animals' fur. An interesting way to disseminate thoughout the forest!
But I see we are onto Asteraceae right now, so I will just list up this very rich and widespread plant family (note that they didn't allow for much insect spotting during this bioblitzing experience).
Well, many many Thistles… (a little more text far below)
Let's take a break with trees. Actually, the most frequent in the regrowth area are the Black Locusts. No, these really belong to the plant post, because they are plants, not insects. The scientific name is Robinia pseudoacacia, and it is a tree that wasn't growing on this side of the forest before the storm. It is growing further away, in more sandy places, only a few hundred meters South. It really took of as a species replacing the previous trees growing here. I'm even learning something as wikipedia tells me it's native from the USA, but it's so well established here that I thought it was native…
Yet the other common species is maybe more interesting at this time of the year, because fruits are just falling over the place, and they are really good: Chestnuts! Hum, and I think this post might grow longer and longer, but nobody will read further, so I'm stopping it here and I'll show the few other pictures left later… :-)