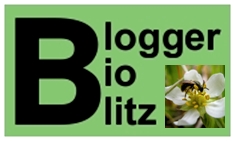 Open door. Backpack filled with field guides, water and camera. Walking a few blocks and then… Frick Park, Pittsburgh, PA. Time to begin blitzing wild.
 Hey guys, I'm looking for freaky beasts and strange plants. I know spring's been around already, young leaves are tilting all over the branches. Now that's going to be fun. Actually, plants were standing still. Quiet.
The way is becoming increasingly smaller. So here we go… Some Viola flowers first. Well, oh my! It's even worse than in France here. Which species would it be? Maybe that's not so good, as a start, there are many species. They may even hybridize as much as the European species do. Let's see if I could, say, choose to stick to species that are very easy to identify.
This one? Stellaria media, the Common Chickweed. We do have the same species growing overseas. So much for the ease. Look, it's visited by an insect. A… A… A… A Halictid bee. Which one? Don't ask me any further. In the scientific papers that I read sometimes, they're almost always referred to as "small bees". Indeed. They are small. They are bees. While taking the picture, I disturbed a very little snake resting in a stony sunny place. I don't have guides for vertebrates because, unlike many people, I am not naturally much taxonomically involved with them (I was much more of an arthropod guy when I was younger, though some would say I had more to do with a mollusk). But this species was very easy to identify, because it was a Gartner Snake (Thamnophis sirtalis). A tiny baby Gartner Snake (we have an individual living the hole next to the door at home, but I've not seen it yet this year). Cute.
And what about that plant I wondered about last year… Oh yeah! Here it is. Much easier since I know about the flowers and the fruits too. Smilacina racemosa. Or False-Salomon's Seal. Hey, it doesn't look that close to a Salomon's Seal (that's another one from my homeland). Inflorescences do not really compare. Leaves neither. But hey, Smilacina racemosa belongs to a family closely related to the true Salomon's Seal plant species (Polygonatum multiflorum, Convallariaceae) : the Ruscaceae. This family belongs to a very derived clade from the order Asparagales (in Monocots), which botanists quite recently decided to call "Higher Asparagales" (hey, phylogeneticist purists, that's not me, they just did, so far). Higher Asparagales are notably characterized by a highly conserved microsporogenesis (development of pollen grains), and I predict that pollen development would be the same in both species. Who dared to say evolutionary theory had no predictive power? And you creationists, would it falsify evolution if I'm wrong?
 By the way, our False-Salomon's Seal had an intriguing guest: there's a tiny weevil climbing onto its stem. Yep, another insect species.
 Another species I won't identify, for my guide allows mostly to go up to the family level so far (hey, that's still a great guide).
 Next neighboring plant must have something to do with magic. With Mandrake as a name, you guess! It's Podophyllum peltatum. Its other vernacular name is also May Apple. Gibus*! In a perfect world, the original apple sin (or apple thing) would have been about the fruit of magic, not of knowledge, and the whole humanity would thus have quite innately turned toward rationality and science without any fear.
But it's time to run downhill since everybody else's been walking far away by now. Violets were regularly growing all along the way. Some more Halictid bees were flying around their flowers. A lot more down, it's getting more swampy. Actually, greeny. Or grassy. Even gracious. With lots of Dandelions (Taraxacum officinale). Would it change the pollinator fauna? Well, actually a little bit. More Halictids of course, but then a few domestic bees (Apis mellifera –Oops, I forgot to add it to the list, I can identify it without a guide at least).
And a little green bee (well, if only I had known about this key at that time, I may have tried to identify it… But hey, there was no wireless there! Looks like it was an Augochlora species). And a few other pollen grazing coleoptera. By the way, there were also a few tufts of late Tussilago flowers and some fruiting stems readily dispersing seeds (I told you spring already got here).
Launching lunch time (little daughter was becoming hungry), I also met a pigmy grasshopper. Very cute. I was indeed amazed by the fact that it was that small and that it was adult (because it was fully winged).
But apparently, pigmy grasshoppers overwinter as adults. I can't offer any scientific name neither (I ended up forgetting about insect names).
When the walk started again, I was interested in an impressive plant growing in the muddy sides of shallow streamlines inside the wood. I had seen this plant the last year without actually bothering putting a name on it. Mostly because I usually wait for an open flower before any attempt to identify a plant. The thing is that I never had a chance to see the flower before. And there is a good reason for that: it flowers before leaves emerge and take over. So identification was a tricky part. I decided to look at every page to see what was most closely resembling this species. Skunk Cabbage. That's it. Or Symplocarpus foetidus. I don't have any preference here since both names are not that appealing. Too bad, because this plant is actually very cool, and I will be posting more about it some time in the next weeks. Amazingly, some of the green spots that we see on the right of this blog's banner are Skunk Cabbage plants.
I wrote that I didn't care about trees for practical reasons (and the same is true for insect species, or maybe because trees tend to look like vertebrates –yes they do!), but that's not completely true. I could spot Prunus trees, those producing wild cherries. There are a few along the way also. Heavily flowering. With some bees. Carpenter bees I think (though not knowing the scientific name). And domestic bees again. Buzzing around the white flowers. See the blue sky: that was a great day for blitzing.
A few hundred meters later, and the woods end up in a cemetery. There were many squirrels, a few chipmunks and I even saw the White Throated Sparrow there (Zonotrichia albicollis). Most other birds I've seen during my blitzes are fairly commonly seen, so I don't insist on them. This species might also be common, but it was the first time (and unique so far) that I've seen it. Too far away for me to take a picture nevertheless.
On the way back, here is the amazing event. I was pushing my daughter's stroller and suddenly little girl was telling me there was a snake straight ahead. I didn't take much care because most of the time, it's all about an earthworm (and I would have had to add a lumbricidae species to my list…). She kept insisting more and more that there was a very big snake ahead. Indeed.
There was a huge snake fifty centimeters in front of the stroller wheel. But I have an excuse, because it was laying straight along the shadow of a tree.
Since the snake was more or less dark brown, I could barely see it, for I was again distressed by Skunk Cabbage downside. As we stopped, it slowly took the way down the hill, in and on the dead leaf litter. It was a marvelous and very impressive specimen of Black Rat Snake (Elaphe obsoleta thanks to Burning Silo and Rigor Vitae for the ID), whose size was even bigger than mine. I can't believe my daughter is already a better naturalist than I am.
The way back finally offered a few more interesting plants species, such as the Spring Beauty (Claytonia virginica), though it was not as abundant there at Pittsburgh as it is near Linesville, a wonderful little Brassicaceae called Dentaria laciniata (or also Cut-leaveToothwort) dispersed in a shady and humid underwood, a few specimens of Virginia Cowslip (Mertensia virginica) and quite a huge patch of Vinca minor, the Periwinckle, which I was about to dismiss (unconsciently), because it's a garden plant in France, that may occasionally grow up spontaneously up and there, but is definitely not a wild plant overseas. And I don't know why, but I tend to ignore common garden plants.
So… Blitzing was nice. I enjoyed it a lot. I guess I'll do it again next time, wherever I might be.
---
* There's an old tale that the world was created by a
Giant Supernatural Quantic-Sized Hat
. There are many scientific arguments tending to prove this, like the very fact that planets are spheres or at most spheric and would perfectly fit the hypothesis of hat's resting places. So far, the phenomenon of night and day is perfectly explained by the giant Hat covering Earth some of the time and impeding (respectively allowing) the sunlight to reach the ground. Some consider this tale not to be incompatible with the FSM hypothesis, since even a FSM would need a hat or even a hat tip.