Here is first a list of plant species that I formally identified during the blitz week (there are a few that I didn't, for I lack time, a good field guide, and a better knowledge of the focal plant). Definitely no trees in the list: too big, no leaves yet (or too young leaves), and I cannot identify them based only on trunk characteristics. Well, it was hard work for me, because many of these species are new to me, except for the European invasive (or conversely, the American species invading Europe). But here it is! (Four small or bigger blitzes so far: the 21st & 22sd of April were in Pittsburgh (the first day in my garden, the second day at Frick Park), and the 24th & 26th of April were near Linesville (PA, at the border with Ohio).

Then follows a list of animal species. Far shorter. I intended to include insects, of which there are a few species that I might be able to identify up to the species level. The problem is that I just realized my guide is aimed at identifying up to the family level, so that I decided to forget about insects (those of you who know me won't believe it but yep, it's true! You know, it's really frustrating when you are at a grand new location overseas and species are not really the ones you're "used to"…). But here they are:
PLANTS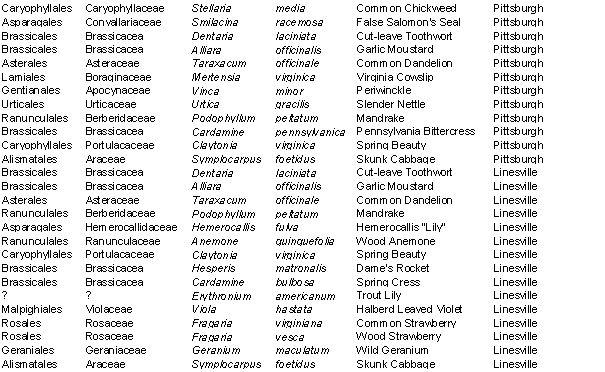 ANIMALS

A post dealing with the BioBlitz at Frick Park, in Pittsburgh, is intended soon (or next), when I will have free time to write about it. But right now, my commitment to the BBB 2007 will be limited to these two lists.